Over the course of August, members of the Conservative Party will vote to elect the next Prime Minister of the UK.
That's a big responsibility, and one which I hope my fellow party members will take seriously. In particular, I hope that all of us will remember that we are not just electing a leader of the party, but we are electing a Prime Minister.
That means, first and foremost, that the person we elect has to be someone who is up to the task. They must have demonstrated a high level of competance in their career so far, both political and commercial. They must have a high level of personal integrity. And they must be someone who has the ability to unite the party, and reach out to floating voters.
Both the candidates we are choosing from have their qualities. But I believe that one of them is, very clearly, the better of the two. And that is the person who will get my vote.
Why?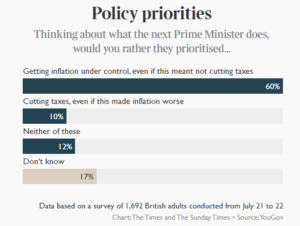 I believe that Sunak is the better candidate, for a number of reasons. Firstly, he isn't trying to buy our votes with pork barrel promises of unfunded tax cuts. And this is something that the general public – the voting public – clearly agrees with. In a survey reported in today's Times, 60% of the public think that reducing inflation is more important than cutting taxes. Only 10% thought the opposite. Sunak is the only candidate who has consistently made tackling inflation his priority. On this, he is on the side of the people.
Opinion polls repeatedly show that, among the electorate at large, Sunak is perceived as the better candidate and the one more likely to persuade them to vote Conservative at the next election. If winning elections matters to us, then those opinions should matter to us, as well.
Secondly, Sunak has demonstrated his ability to think on his feet and respond fast. Thrown in at the deep end as Chancellor when Sajid Javid resigned in early 2020, Sunak was immediately in the forefront of Britain's response to the Covid pandemic. His furlough scheme – much more innovative and flexible than similar projects elsewhere – helped ensure that financial losses to businesses and their employees were minimised. There's no doubt that, without it, a very large number of companies would have gone to the wall and their workers would be out of jobs.
Sunak's personal wealth has come in for some criticism, but the reality is that he's earned it. Born into a middle class, immigrant family, he worked and studied hard for his deserved success in the financial sector – another reason why I trust him to make the right decisions on taxation. There's no room for the politics of envy here. And one thing we can be sure of is that if Rishi wants to redecorate 10 Downing Street, he'll pay for it himself!
Don't just take my word for it. Former Conservative leader and Foreign Scretary William Hague was Sunak's predecessor in the constitency of Richmond, Yorkshire. If you can get through the paywall, Hague's article in The Times is a must read. But I'll quote the key section here:
I represented Richmond in the Commons for 26 years until 2015, and I will never forget the scene when hundreds of local worthies assembled to choose my successor as the Tory candidate. "A farmer would be good, or a military man," some of them said on the way in. "We need a local candidate," said others, or: "Obviously they have to come from Yorkshire, that's a given."

Military men and strong local figures were all available to them. But when they filed out three hours later, they had chosen someone new to farming issues, with no army career, who wasn't local, not from Yorkshire and was from an ethnic minority and brought up in Southampton. They were stunned but thrilled. They had chosen Rishi Sunak.

At the election that followed, local independents and Ukip fancied their chances against this newcomer. But they were all routed by Sunak, who turned out to be a highly energetic, bright, emotionally intelligent candidate.
We need someone who is energetic. We need someone who is bright. And we need someone who is emotionally intelligent. Of the candidates we have in front of us, Sunak ticks all of those boxes.
It matters, too, that Sunak is the preferred choice of our MPs. I do think it's good that the party membership has the final say in our leader. But we need to be cautious about exercising that responsibility. We've already seen what happened to Labour when members installed Jeremy Corbyn despite their MPs wanting someone else. It's happened to us, too. Iain Duncan Smith was the choice of the members, against the wishes of our MPs, and in retrospect that didn't work out too well either.
If we were currently in opposition, then I'd be more relaxed about disregarding our MPs' wishes. Sometimes you need a new broom to rebuild from the ground up. But in government, we need someone who is able to work with the people already there. It's not the only consideration, of course. But we owe it to our MPs to take their opinion seriously here. Our MPs have the advantage of seeing the candidates close up in their day to day work, and can see how well they've been doing their jobs. Let's work with them, not against them. Sunak is the Parliamentary choice, and should be the members' choice, too.
Finally, there will, unfortunately, be an element of prejudice among those who would rather have a white face in Downing Street, and a more understandable fear that prejudice may harm our electoral prospects. But in an era when our main Parliamentary opponents have never had a leader who is anything other than white, male and British, the Conservatives have already given the UK our first ethnic minority Prime Minister (Benjamin Disraeli), our first immigrant Prime Minister (Andrew Bonar Law) and our first female Prime Minister (Margaret Thatcher). It would be entirely fitting, and completely in accord with Conservative principles, if we give the UK its first non-white Prime Minister.
Rishi Sunak has the ability, the experience, the backing of MPs, the appeal to the electorate, and offers us once again the opportunity to make history. I'll be voting for Rishi. I hope you will, too.