Remember the Apple Maps fiasco? Google clearly didn't.
I've previously blogged about how Google has managed to get the colour scheme horribly wrong in the latest redesign, but the latest change plumbs yet new depths of inanity.
You may have seen media reports of how Google managed to rename Basingstoke, but when my Maps were suddenly "upgraded" to the new version I noticed an equally glaring error right here in Evesham. Or, as Google now calls Evesham, "Raphaels". Here's a before and after screenshot: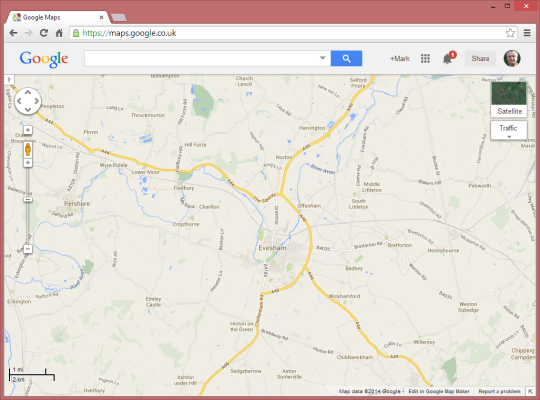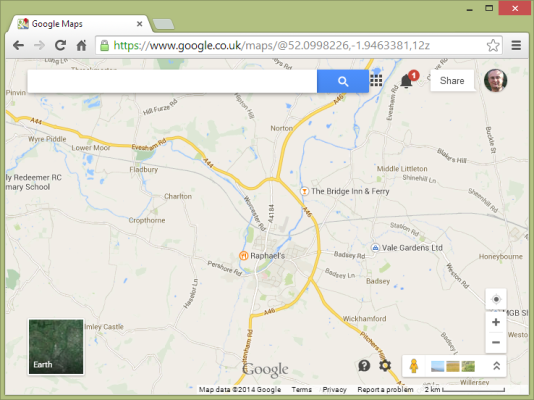 Actually, Evesham itself hasn't been misnamed (unlike Basingstoke, which really was). What's happened here is that a local business, Raphael's Restaurant at Hampton Ferry, has, for some inexplicable reason, been given more prominence than the name of the town. If you zoom further in, or back out, then "Evesham" reappears on the map.
But why do this? I initially thought it might be a bodged attempt at personalisation, as I happen to know the owners of Raphael's and eat there often. It's not beyond the bounds of plausibility that, somehow, I've created enough of a digital footprint via social media that Google knows that, and is therefore highlighting it to me. But then again, neighbouring Pershore also shows up as "Holy Redeemer RC Primary School", and I have no connection with that institution at all. In fact, until earlier today, I didn't even know it existed.
So, what is the connection? My next thought was that it's because Raphael's Restaurant has a Google+ page, and a couple of generally positive reviews (currently rated 4/5, which is pretty good, really). But no, the Holy Redeemer RC Primary School doesn't appear to have a Google+ page of its own yet. (It has an auto-generated Google one, but not a "real" one, if you know what I mean).
So I'm still none the wiser. And, while I'm not going to say anything negative about Raphael's Restaurant (you should try the Sunday carvery, it's excellent), I can imagine that other business owners in Evesham are somewhat less than chuffed about this. Why should Raphael's be the first food outlet to appear on the map as you zoom in to Evesham? And why should the Evesham Pizza and Kebab House, in Port Street, be the second? (Other than the fact that I am a regular customer of theirs as well!). Why do St Richards First School and St Mary's Catholic Primary School show up on the map of Evesham before the considerably larger Prince Henry's High School? Why does the Vale of Evesham Christian Centre show up before Evesham Methodist Church? Why is Bonk the first shop to show up in the High Street (which is wrong now, anyway, as Bonk is moving to Port Street), and Phones 4U the first to be visible on Bridge Street?
I could go on. The entire selection of businesses on the new Google maps seems utterly random, and bears very little relationship to what people are likely to be looking for. If you want a primary school, a riverside cafe and a skate shop then it's not a bad selection. But, realistically, how many people are going to care about these things?
I said in my previous post that Google seems to have stopped considering Google Maps to be first and foremost a map, and instead sees it primarily as a kind of geo-located business directory. That in itself is a bad move, of course. But it's compounded by the fact that Google Maps is an absolutely atrocious business directory. It's missing 90% of the businesses and organisations that people actually use, and of those it does include, it ranks them in an entirely arbitrary order of priority.
Anyway, enough ranting. There are three important things you need to know:
1. To opt out of the new Google Maps, click on the question mark icon at the bottom of the screen, and select "Return to classic Google Maps".
2. Raphael's Restaurant is definitely worth a visit if you've never been there before, particularly the Sunday carvery.
3. Buy your skate stuff from Bonk. Kim does a lot for the town, and needs all the business she can get.